When your goal is to write content that attracts traffic, your first instinct might be to start churning out page after page of content for your top keywords
But unless your website is already considered authoritative and you're working within a highly structured, long-term SEO plan with a proven history of huge wins, it's going to be a huge uphill battle.
Seriously. Going straight for those super competitive short-tail keywords will have you running in place for months or years–and you may never even get them.
You can use what's called "low-hanging fruit keywords" to start driving traffic to your site RIGHT NOW and help you build up to those super competitive keywords.

What are Low-Hanging Fruit Keywords?

Low-hanging fruit keywords are keywords or phrases that are less competitive but still offer a ton of value to your SEO efforts. These keywords are typically lower keyword difficulty but still have enough volume to drive quality traffic to your website.
Plus, a lot of low-hanging fruit keywords have SERP features like featured snippets, sitelinks, video previews, or image previews that are easier to earn.

How Do Low-Hanging Fruit Keywords Benefit Your SEO Writing Strategy?
Scoring low-hanging fruit keywords is the gateway into more traffic (sometimes even better traffic), and eventually ranking for more difficult keywords.
If you can earn SERP features for low-hanging fruit keywords, you begin establishing relevance and authority with search engines. Once you've proven your value to Google in one area, it's far more likely you'll rank higher for your other keywords.
Think of your SEO writing strategy as a pyramid. You need a robust foundation (your low-hanging fruit keywords) to support your more competitive keywords (the top of the pyramid).
Start by writing a lot of value-heavy content for low-hanging fruit keywords and then slowly build up to your target keywords.
How to Find Low-Hanging Fruit Keywords (With Examples)

There are a buffet of SEO writing tools to choose from when putting together your low-hanging fruit keyword strategy. In this example, we're going to be using AHREFS

Start With a "Seed Keyword"

Your seed keyword is the base word or phrase that you'd like to rank. This will probably be the short-tail keyword that you'll eventually compete for.
In this example, our seed keyword is "horseback riding," which we type into the keyword explorer on AHREFS.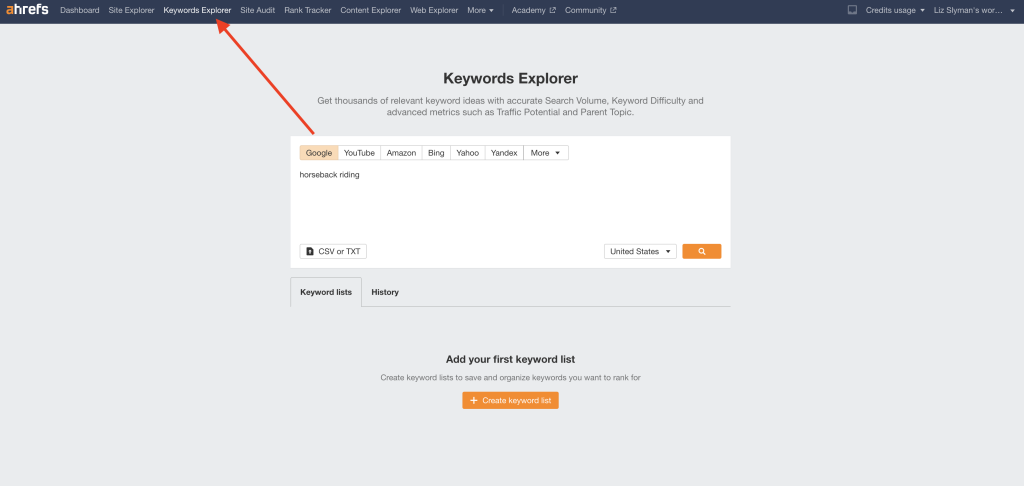 When we hit the search button, we get results showing the keyword difficulty, the average search volume over the past 30 days, the traffic potential for ranking for that keyword, and the global search volume for the keyword

Keyword difficulty is a measure of how challenging it will be to rank in the top 10 for the chosen keyword. The keyword difficulty (KD) scale is 0-100. The higher the KD, the harder it will be to rank.
We can see from this report that this is a "hard" keyword to rank for. So now, we look for our low-hanging fruit keywords.

Go Low Keyword Difficulty, High Search Volume

Low-difficulty keywords with a relatively high search volume actually do exist!
With AHREFS (or whichever tool you might be using) you can look up related keywords. In this example, you'll see that we go over to "matching keywords," go to the top and set the "KD" filter to between 1-12, giving us keywords that are on the lowest end of the keyword difficulty scale.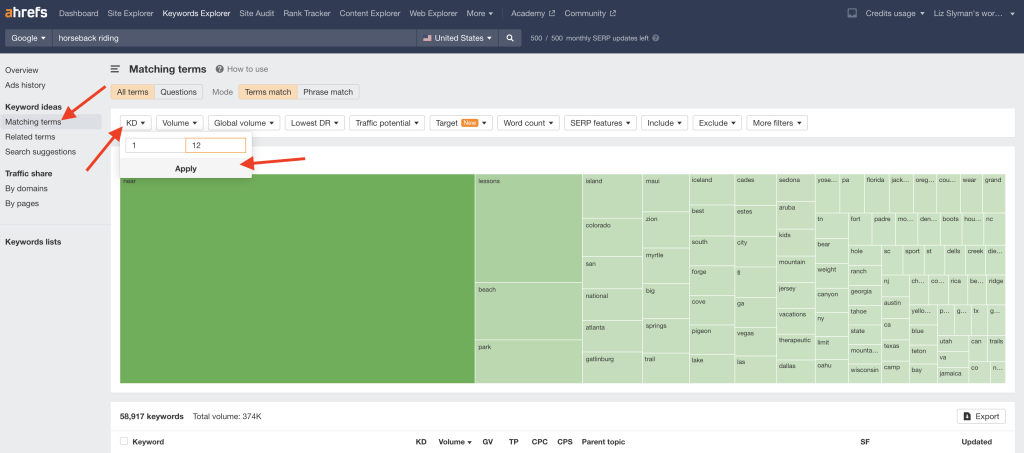 Then, we can scroll through the list until we find one that works for our objectives.
There are a lot more options when filtering keywords on AHREFS, such as traffic volume, word count, SERP features, and even include and exclude words within the search phrases.
You can see how we found a great keyword option with a KD of "1" and a search volume of 900 and a global search volume of 1.2k.
Check out the example below:
Aim For Keywords with SERP Features

One of the best things about low-hanging fruit keywords is that some of the high-traffic, low KD terms also have associated SERP features. Because these keywords are easier to rank for (if you create content that's higher value than what's currently ranking) there's a good chance that you can earn a SERP feature.
SERP features include the ever-coveted featured snippet, sitelinks, video previews, image packs, people also ask, and a bunch more.
Earning these spots means that Google is starting to recognize your website's relevance and trusting you to put out great content. As you continue to build that relationship with Google, you'll find that it's easier to win EVEN more SERP features.
You can see which keywords have search features using AHREFs.

Create Competitive Content
It's not enough to just write content around your low-hanging fruit keywords. You need to write content that is robust enough and useful enough to show Google that your content is worth ranking over the pages that have already taken the top spots.
Just because an "easy win" keyword isn't as difficult to rank for doesn't mean you don't have to put effort into it.
Quite the opposite.
You want to write content that's FULL of value so that when Google crawls your site, they decide your content is relevant and authoritative. It's like how runners sprint when the race gun goes off: you want to start strong.
Here's how to write content that's guaranteed to compete for those low-hanging fruit keywords:

Analyze competitor content. How robust is their content? How many words? How in-depth does their information go? What supplemental content do they have like infographics or video? What are they doing that search engines like?
Go further Into detail and more In depth that the competing pages. You don't want to just create a replica of what's already ranking. Why would Google want to rank your content instead if it's exactly the same? Answer MORE questions, provide MORE resources, add MORE supplemental content. Really, it comes down to this: if your content is more useful to the user, search engines will deem it "better."
Optimize ALL of your page elements. Search-friendly content is great, but you want to make it as easy as possible for Google and other search engines to crawl your site and determine its relevance. Optimize your images, page title, alt tags, captions, headings, meta data, schema markups, and any other elements. Even better? Add a "key points" section and a table of contents to make the content more user-friendly (and Google friendly!).
Score Low-Hanging Fruit Keywords: And Then Keep Climbing!
Low keyword difficulty, high search volume keywords with SERP features are a goldmine for your SEO and can help you build the foundation for a massively successful content strategy
But, remember: easy win keywords don't mean INSTANT win. you need to treat your grabs for low-hanging fruit keywords just like you'd treat your dream keywords: doing so makes it so those are easier to score later!