Updated May 11, 2023
Your sales funnel–no matter how complex–needs content that meets the needs of consumers.
If it's not fulfilling a need, publishing copy or content of any length is completely useless. 
Depending on what your audience is searching for, you need both long and short form content that meet them where they are.
Every piece of content needs to serve a specific purpose.
Both short form and long form content have their place, and you need both for a successful sales funnel.
What is Short Form Content? What is Long Form Content?
Long form content is generally any piece of content or copywriting that is 1000 words or less, while long form content is generally anything more robust.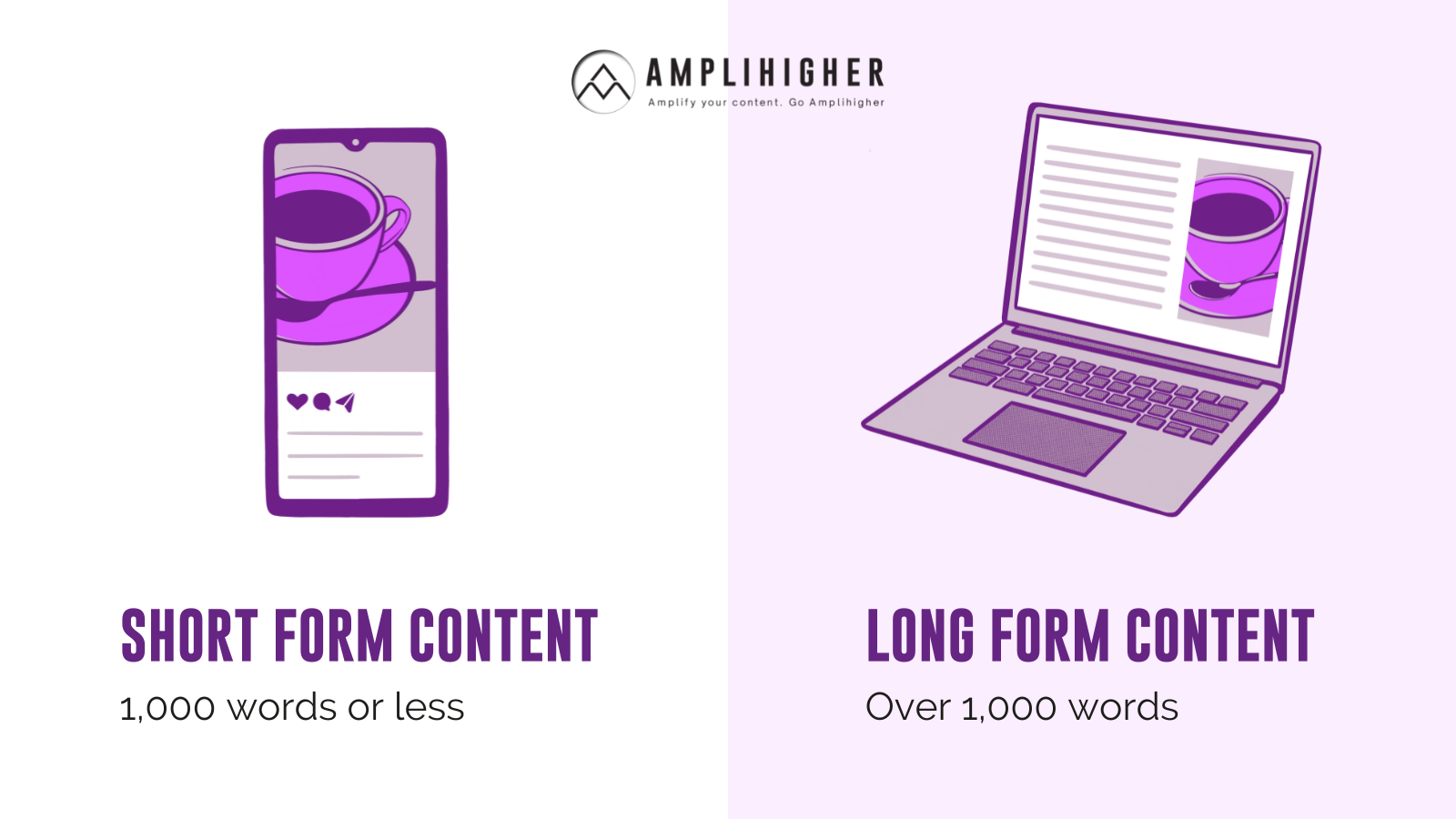 How Long Should Your Content Be?
The length of your content depends on your objective, which should be based on user intent and what your audience already knows vs. doesn't know. 
Consider that there will be consumers at every stage of the sales funnel:
The audience who is just beginning their search to solve a need (awareness)
Those who are aware that there are solutions that meet their needs (interest)
Those who are interested in taking the next step in meeting that need (desire)
An audience who is ready to buy (action)
Previous customers that may purchase from you again (retention)
Depending on where your audience is in the buying process, you will need to publish content that addresses their current knowledge and guides them towards the next stage in the funnel.
Let's take a deeper look at examples of long and short form content and when to deploy them in your sales funnel.
Short Form Content Examples
Email Marketing Campaigns
Stage of the Sales Funnel: Interest, Desire, Action, Retention
Email copy isn't supposed to be a dissertation. Your email copy needs to be hard hitting in a minimal number of words. Email campaigns can be used in several different ways from nurture sequences to upsells to customer retention campaigns.
SMS Campaigns
Stage of the Sales Funnel: Retention
One of the shortest forms of marketing copy there is, SMS campaigns aren't just few words–they're few characters.
The shorter your copy is, the more powerful it needs to be. This is particularly true in SMS copywriting. Having text message access to your customers is as direct as you can get without physically getting in front of them.
SMS campaigns perform exceptionally well as part of a retention strategy. You can ask for feedback, engage with customers with post-purchase information, and send marketing text messages directly to their phones.
Ad Copy
Stage of the Sales Funnel: All of them
Advertisements are usually short form copy, with the exception of advertorials or video sales letters. Google display ads, Facebook ads, LinkedIn ads, and print ads are all examples of marketing campaigns that require thought-provoking short copy.
And with advertisements, it's often the shorter the better.
Consumers see up to ten thousand ads per day and ad burnout is a real thing. Your ad copy needs to be strong enough and snappy enough to catch your audience's attention and keep it.
Ad copy is used in every stage of the sales funnel from awareness campaigns that increase brand visibility to campaigns that retarget previous customers.
Social Media Captions
Stage of the Sales Funnel: Awareness, interest, desire
Social media captions are limited by character count, and by circumstance alone, are considered short content.
Depending on your goals, your social media captions can be written for a variety of audiences. You can publish social media content that's designed to attract a new audience, educate those in the "interest" stage of the sales funnel, or compel those who know, like, and trust you and are on the verge of purchasing.
Sales Pages (for Warm Audiences)
Stage of the Sales Funnel: Desire, Action
Sales pages can be both long form or short form copy. If the sales page is for warm leads, you may opt for short form copy. A warm audience going to a sales page has typically been nurtured before they get to the "action" part of the funnel, and short, strong copy validating their desires and driving home the purchase benefits should be effective.
Long Form Content Examples
SEO Articles
Stage of the Sales Funnel: Awareness, Interest
Expansive SEO articles are an effective type of long form content if your goal is to position yourself as the expert in your field and attract new audiences to your website.
Search engines often classify longer content as "expert content," especially if it has outbound links to reputable sources and thoroughly discusses its subject matter. SEO articles are a great way to build topical authority in the eyes of both search engines and consumers.
Case Studies
Stage of the Sales Funnel: Awareness, Interest
Case studies back up your success claims and serve as a form of social proof, and are frequently used as lead magnets or as part of a nurture campaign to build customer trust.
Ebooks
Stage of the Sales Funnel: Awareness, Interest, Desire
Great for multiple stages of the sales funnel, ebooks can be a lead magnet as part of an awareness campaign to collect data or be used as an email freebie to further build the know, like, and trust factor with your audience and further drive desire in your products or services.
Sales Pages (for Cold Traffic)
Stage of the Sales Funnel: Desire
If you're driving cold traffic to a sales page, a long form sales page is generally more effective. A sales page is a type of direct response copywriting, which means you want your audience to take an action immediately after reading your copy.
If that's the goal, you need to establish authority, build credibility, focus on benefits, utilize social proof, and include language that helps your audience self-identify. To accomplish this, your sales page will be fairly robust.
Keep Your Content Strategy Dynamic
Businesses that publish both short and long form content are better able to meet their target audience where they are and guide them to the next stage in the sales funnel, meaning that both long and short form content are crucial.
By paying attention to user intent, understanding the needs of your audience, and creating content that serves those needs, your brand will develop authority, build trust with your audience, and turn casual browsers into next-level brand loyalists.